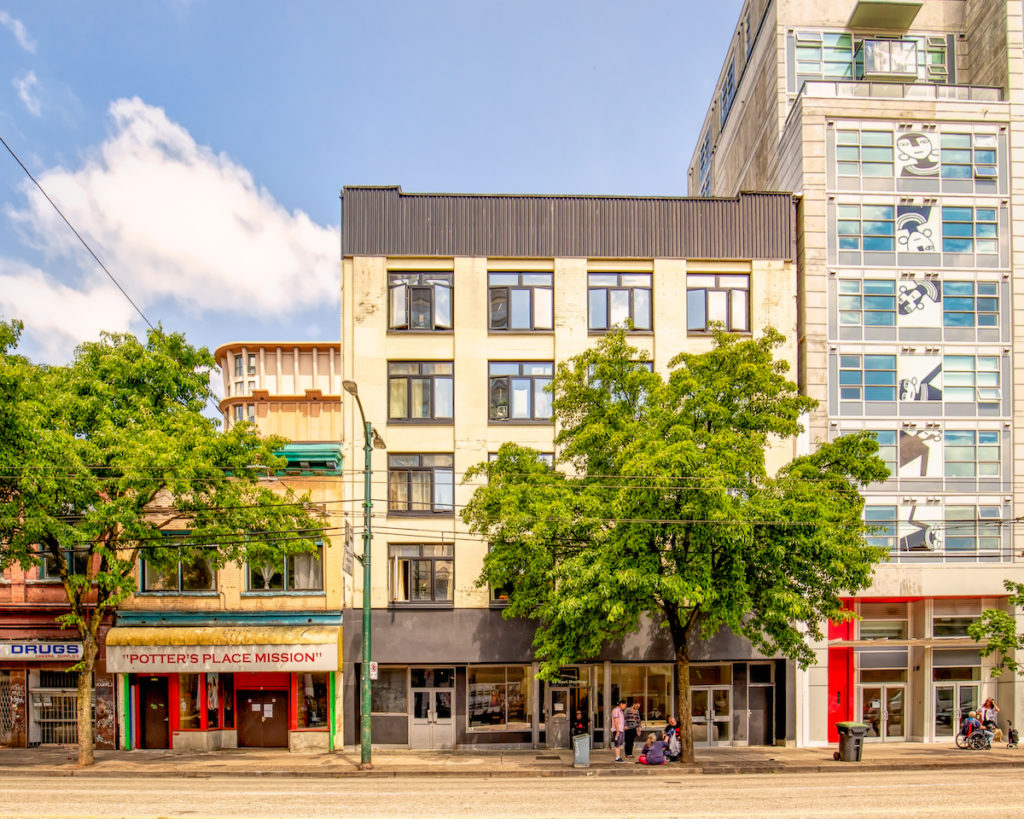 A new plan for the century-old SRO will improve living spaces and welcome formerly homeless seniors
The Dodson is a 69-unit single-room occupancy building (SRO) at 25 E Hastings St. in Vancouver's Downtown Eastside, a neighbourhood known for the poverty, drug activity and poor health of its residents. Anhart has operated the building since 2004, with a mandate to provide deeply affordable and tenant-focused housing.
A small group of philanthropists bought and renovated the century-old building and later donated it to Anhart in 2013. Anhart and these partners have invested about $3 million in capital projects to maintain and improve the building.
Over the years, the challenges of operating an SRO in this neighbourhood have grown significantly: public health emergencies, increases in violent crime, decline in health and welfare of residents. Costs such as insurance, staffing, and building repairs have mounted, but Anhart has increased rents only marginally to an average of $460. Every year Anhart has subsidized the building operations in amounts up to $200,000.
It's time for a new vision at The Dodson. The building will gradually shift to affordable housing for vulnerable seniors. This model will continue Anhart's commitment to the residents of this neighbourhood with a long-term sustainable revenue model.
Here are elements of the plan:
Renovations
A $600,000 building improvement plan is currently underway to make an electrical upgrade and improve the rooms with self-controlled baseboard heating and kitchenettes.
Seniors housing
More than half of the current tenant population is over 60 years old, and The Dodson will now focus on this group. The latest Metro Vancouver homeless counts have shown a growing segment of seniors. The Dodson will serve this need, accepting new tenants from shelters.
Housing choice support plan
The Dodson will gradually move to this new focus. Generally two tenants move out each month, and these will be replaced by seniors from shelters. All Dodson tenants can apply to live in self-contained units at Main Village, currently under development.
Compact kitchens
Each room in The Dodson will be equipped with a stove, fridge and sink. These amenities will significantly improve tenants' quality of life.
SAFER grant
Dodson tenants will be eligible for BC Housing's SAFER grant, a rent subsidy for low-income seniors living in private housing. This grant will give Anhart increased revenue from each of the renovated rooms without raising the rent that tenants pay.
Community Champions
Architect Sandra Moore, who designed Main Village, provided generous support to the project to support affordable housing in the Downtown Eastside. Anhart is also fortunate to work with Jean Ouellette, an experienced contractor who provides innovative and low-cost repair solutions.
Investment Plan
Anhart is seeking social impact investors for a Limited Partnership Agreement (LPA) that will provide long-term financial sustainability for The Dodson. It is a social impact investment to support low-income seniors housing with a modest ROI. A recent appraisal estimated the building's value after current improvements at $11.2 million. The LPA will raise $5 million that will support The Dodson's 50-year lifespan and also strengthen Anhart's capacity to develop new affordable housing.
Downtown Eastside housing plan
Anhart's overall goal is to create a housing continuum in the Downtown Eastside. A portion of current Dodson tenants will relocate to Main Village, Anhart's 69-microsuite building at 138 Main Street, upon its completion in 2023. Anhart is pursuing opportunities to buy additional properties in the neighbourhood for similar developments. Tenants with independent living skills can move from The Dodson to a microsuite in one of these buildings.
More affordable housing development
A stronger financial position achieved through this renovation and investment plan will allow Anhart to initiate more affordable housing projects and increase the number of units available to tenants with low household incomes in the Downtown Eastside and in communities across Canada.
For more information about The Dodson and Anhart's LPA investment plan, please contact Vy.Nguyen@anhart.ca.