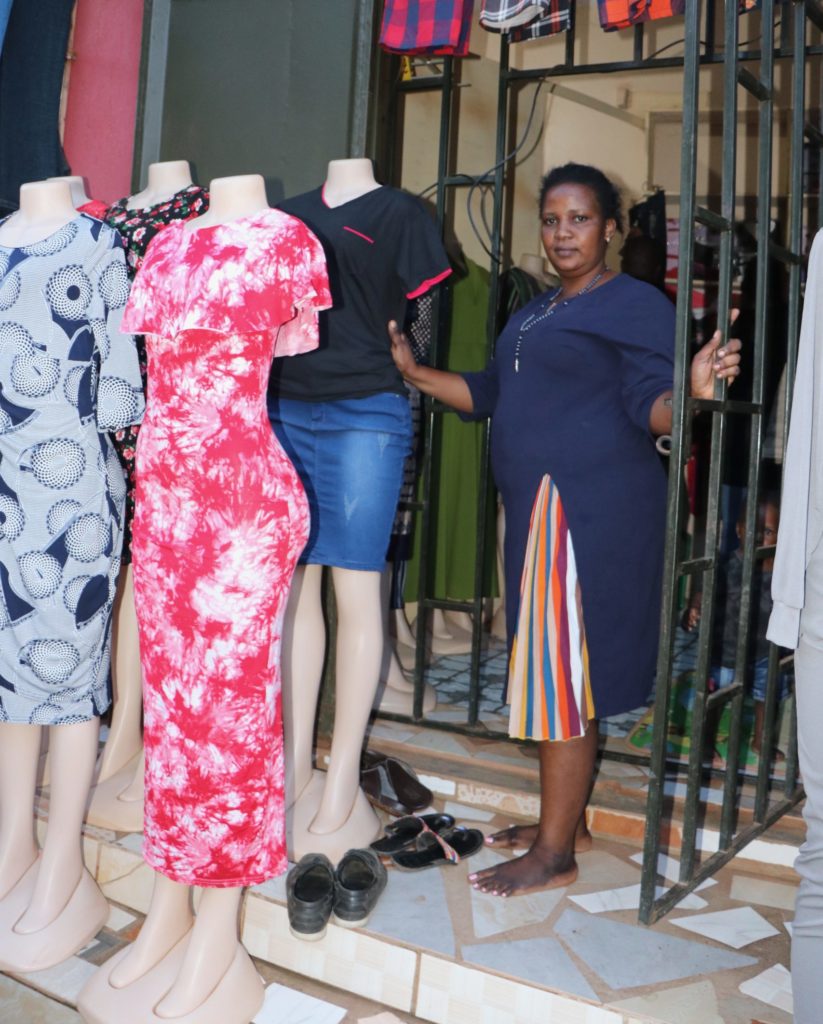 A group of women builds a clothing enterprise in Kampala by sharing their skills and their resources
In the twilight at the open door of the clothing boutique, Pamella Nakanyi removes a dress from a mannequin, carefully folds it up and places it on one of the shelves inside. She chooses a stretchy floral number and deftly tugs it over the model. She shoes away a toddler who is reaching inside the sudsy bucket she just used to mop the floor, and moves on to reclothe the next model.
The little girl is the daughter of Juliet Mutonyi, who is telling me how she, Pamella and 18 of their friends started this shop about a year and a half ago. Many of them were single mothers, and they needed an income. "We had nothing to do," she tells me, and she seems to be saying that the women banded together because they needed a purpose.
The shop is in a small house on a hillside in a neighbourhood of Kampala. Juliet knew Simon Nambafu, who is now translating her Luganda for me because she insists she can't speak English. Simon, who mentors entrepreneurs through Anhart's Sustainable Villages program, encouraged the group of women to come up with a business idea. Most clothing available at street markets in Uganda is second-hand, so they wanted to sell new clothes. They found several suppliers and started out by taking fashions directly to neighbourhoods, knocking on doors and introducing themselves. Their customers would give them orders for specific items they had seen somewhere, and Juliet and her friends would search it out in the markets or at their agencies.
As their business grew they were able to rent this space for a permanent shop. They received a $300 start-up grant from Anhart last year and were able to buy a cell phone. As they expand, they want to focus more on the African tie-dyed fabrics they carry from a local maker and on clothing designed and made by members of the group. These items have higher margins. About half of them have sewing skills, but their production is limited because they only have one sewing machine, which they bought with their early profits. They want to buy at least one more, and a specialized serger for finishing seams.
"As a group you bring in many new skills, many new ideas, and you share the work a lot," she says, explaining how they have grown faster as a group. "The profits become less in terms of sharing because you are many, but you don't become stressed to do everything by yourself. Where one fails, another one adds on, complements the other."
The group also started up another initiative, a grocery kiosk carrying basic items that they all needed—soap, sugar, oil. "These families, they are the ones that become the customers," Simon explains. "Instead of their money sitting still, it's ploughed back into that. And they have created employment for one teenage orphan girl who has no mom or dad. She is working in the store."
The women have become an example to others, who also want to join. "Possibly they can encourage them to form their own groups and do something different," Simon explains, "because everybody is seeing that they have made progress."
He steps out of the store to take a call, and Juliet switches to near-perfect English. We had dropped into the shop on short notice because our travel plans had changed due to the coronavirus threat, and she tells me she was sorry they hadn't known earlier about my visit. All 20 of the women would have been here, she says. Next time we will all be here. We will cook for you, a traditional bamboo dish, and do African dancing. Next time, she keeps saying. Next time.
Sustainable Villages provides small-business grants to community-based organizations like Kitala Women's Association in East Africa. To support small business, maternity clinics and schools, visit here.